NWS Watch, Warning, Advisory or Statement is in effect for Boone County, KY. View Alert
NWS/NOAA Forecast Images
---
SPC Day 1 Categorical Outlook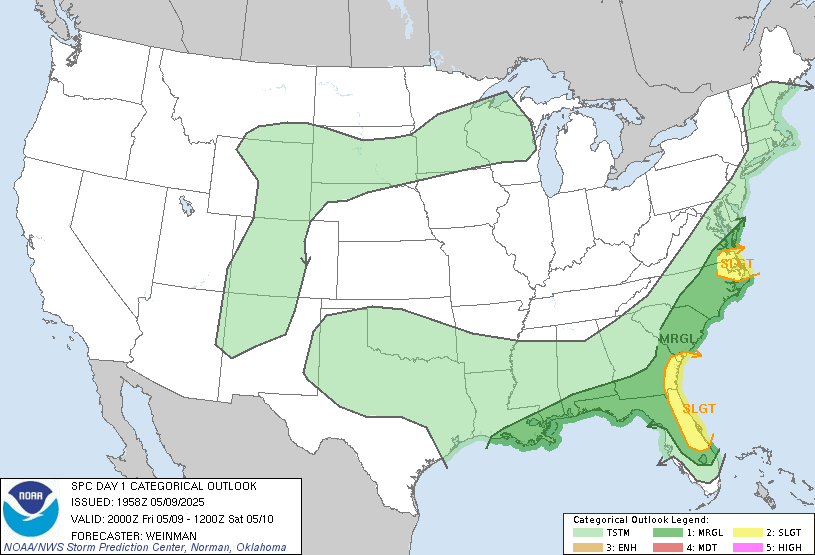 Severe Thunderstorm Risk Categories

Category
Definition
Possible Impacts
THUNDERSTORMS (no label)(light green)
No severe* thunderstorms expected. Lightning/flooding threats exist with all thunderstorms.
Winds to 40 mph. Small hail.
1 - MARGINAL (MRGL)(dark green)
Isolated severe thunderstorms possible. Limited in duration and/or coverage and/or intensity.
Winds 40-60 mph. Hail up to 1". Low tornado risk.
2 - SLIGHT (SLGT)(yellow)
Scattered severe storms possible. Short-lived and/or not widespread, isolated intense storms possible.
One or two tornadoes. Reports of strong winds/wind damage. Hail ~1", isolated 2".
3 - ENHANCED (ENH)(orange)
Numerous severe storms possible. More persistent and/or widespread, a few intense.
Several reports of wind damage. A few tornadoes. Damaging hail, 1- 2".
4 - MODERATE (MDT)(red)
Widespread severe storms likely. Long-lived, widespread and intense.
Strong tornadoes. Widespread wind damage. Destructive hail, 2" +.
5 - HIGH (HIGH)(magenta)
Widespread severe storms expected. Long-lived, very widespread and particularly intense.
Tornado outbreak. Derecho.
* NWS defines a severe thunderstorm as measured wind gusts to at least 58 mph, and/or hail to at least one inch in diameter, and/or a tornado. All thunderstorm categories imply lightning and the potential for flooding. Categories are also tied to the probability of a severe weather event within 25 miles of your location.
This table is adapted from information available on National Weather Service (NWS) Storm Prediction Center's (SPC) website.
SPC Day 1 Outlook For Kentucky

NOAA Day 1 National Forecast Map

Day 1 Precipitation Forecast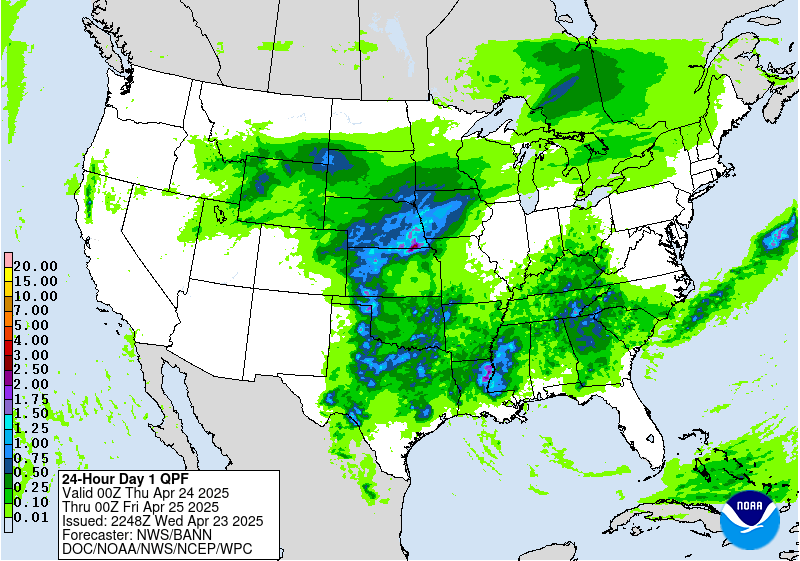 Day 1 Excessive Rainfall Outlook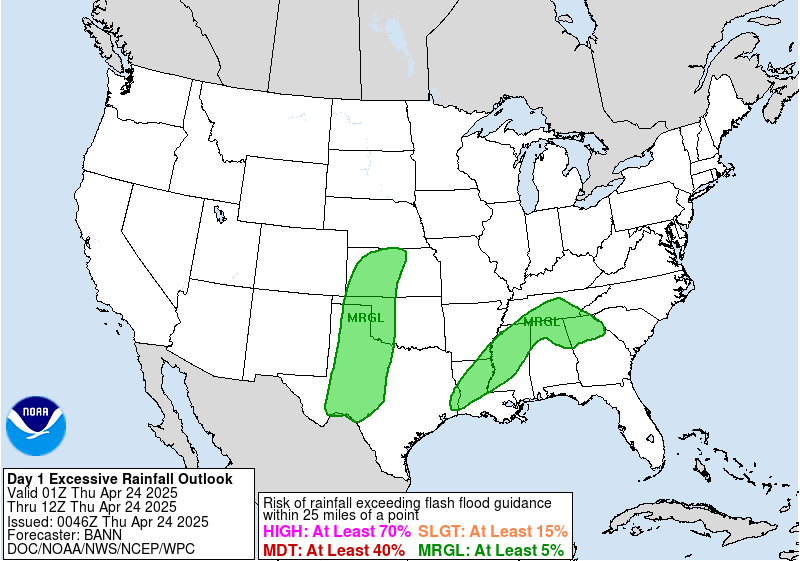 ---
SPC Day 2 Categorical Outlook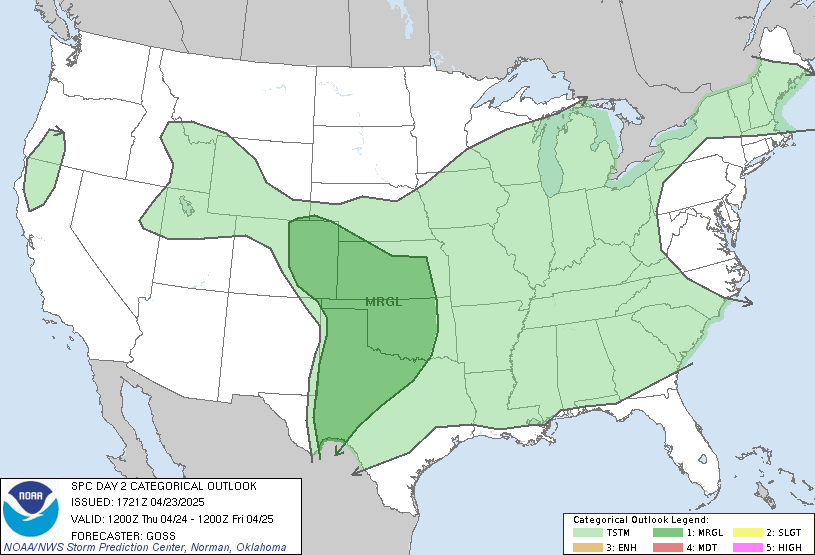 SPC Day 2 Outlook For Kentucky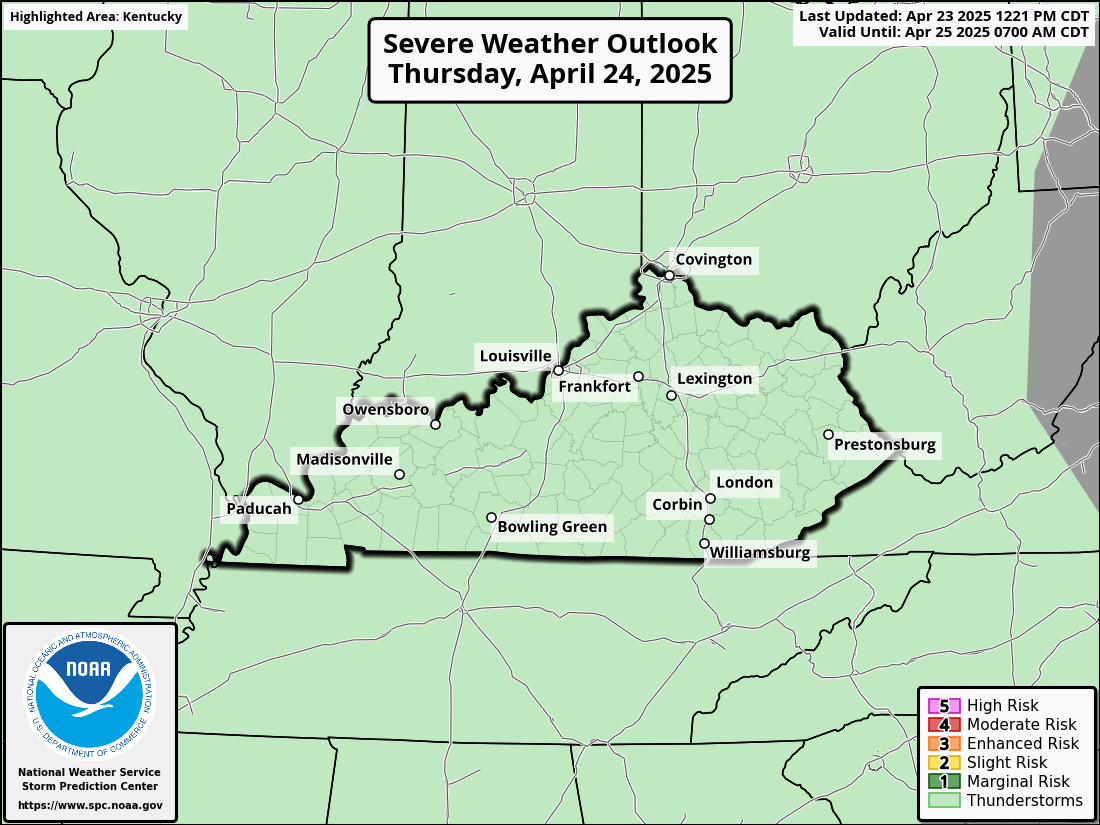 NOAA Day 2 National Forecast Map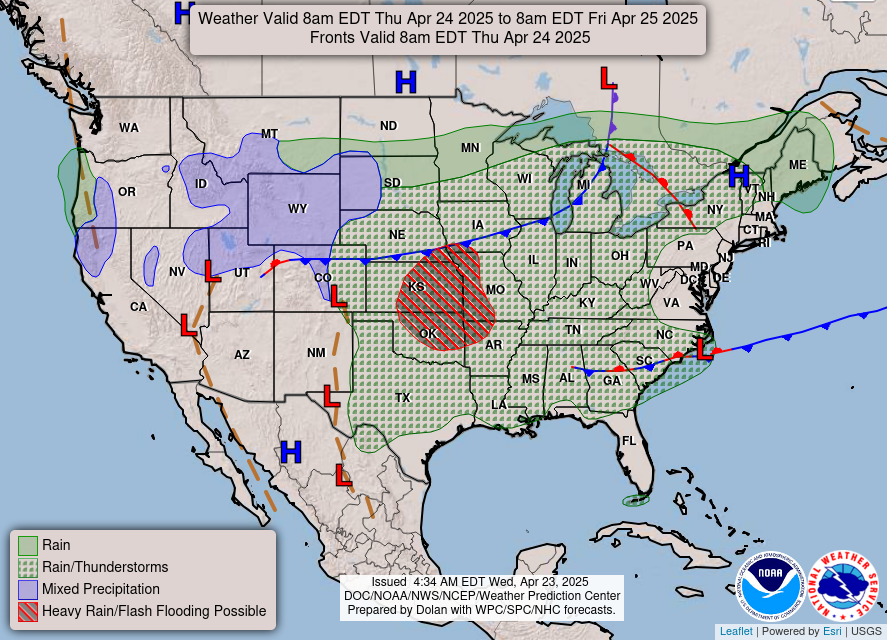 Day 2 Precipitation Forecast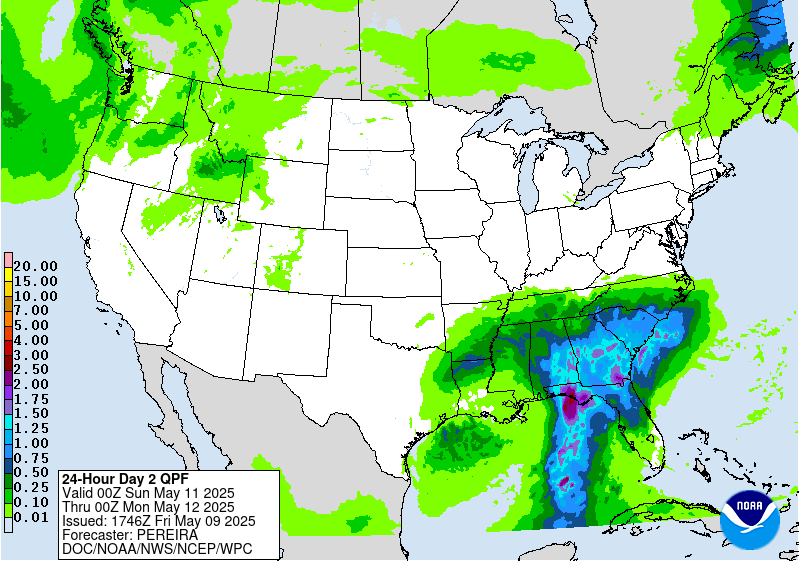 Day 2 Excessive Rainfall Outlook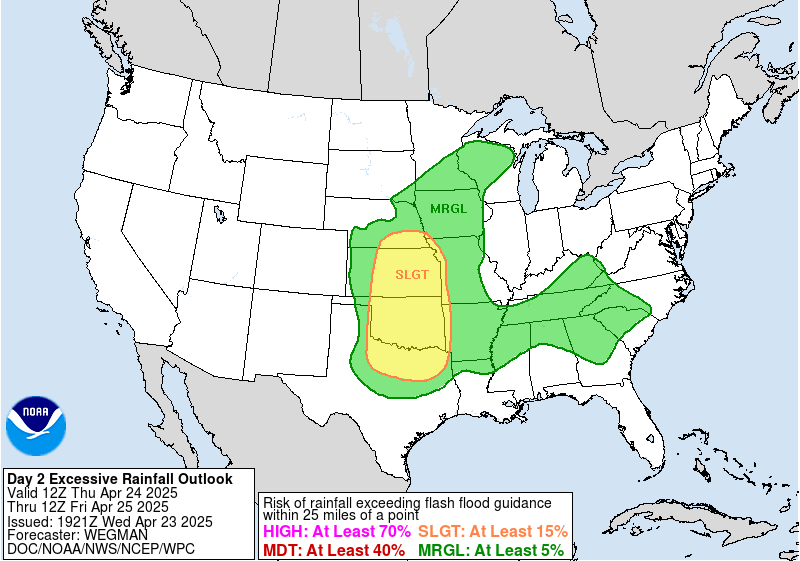 ---
SPC Day 3 Categorical Outlook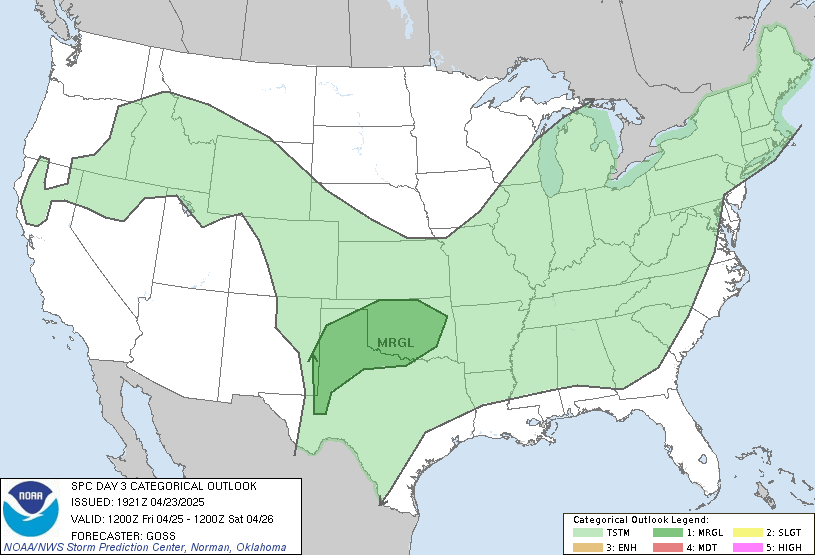 SPC Day 3 Outlook For Kentucky

NOAA Day 3 National Forecast Map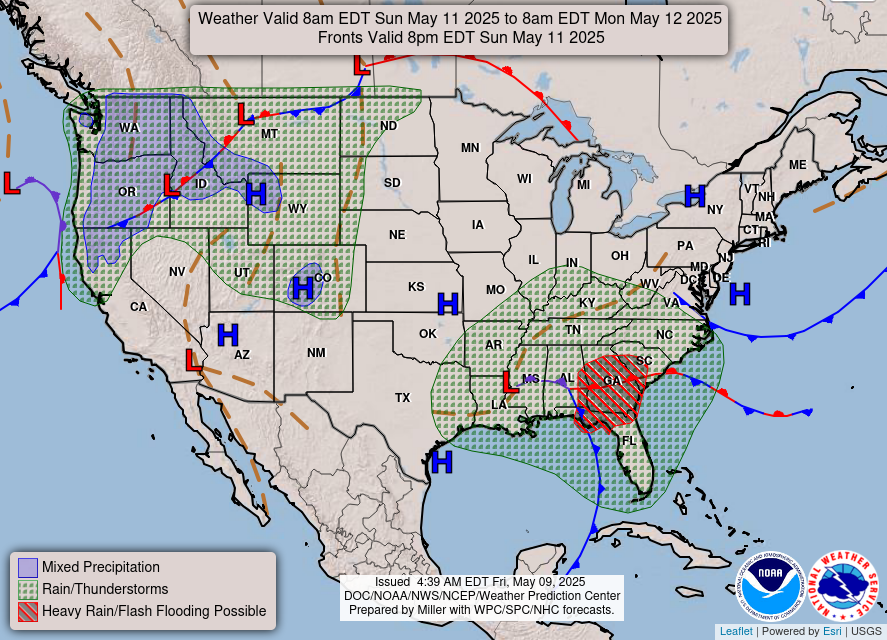 Day 3 Precipitation Forecast

Day 3 Excessive Rainfall Outlook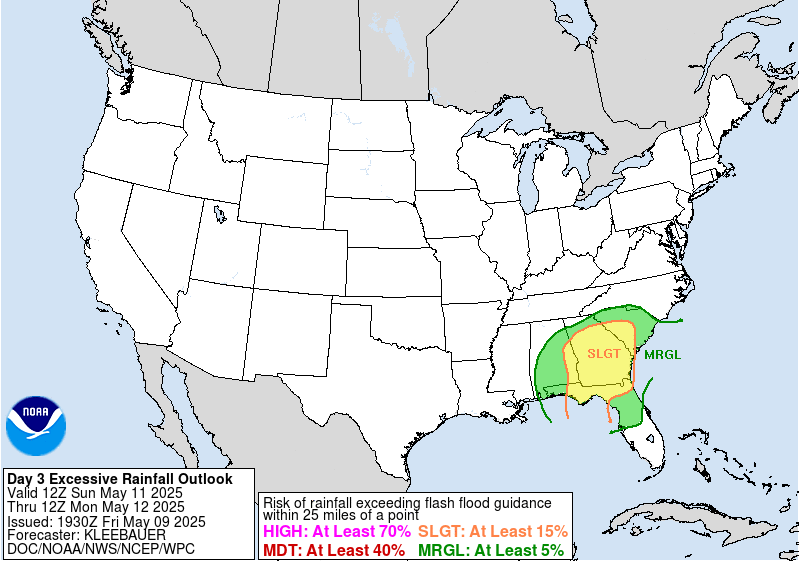 ---
3,853 Views